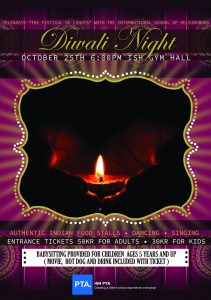 Celebrate "The Festival of Lights" with ISH
DIWALI NIGHT
Friday, October 25th at 18:00pm
ISH PYP Campus Gym Hall
Featuring Authentic Indian Food Stalls,
Dancing and Singing!
Entrance tickets 50kr for adults
& 30kr for children
Babysitting provided for
children ages 5 years & up!
(Children's ticket includes a movie, hot dog & drink)
TICKETS ON SALE
THIS MONDAY, OCT. 21ST & WEDNESDAY 23RD
FROM 14:00-15:00 OUTSIDE
THE MAIN ENTRANCE OF THE PYP CAMPUS.