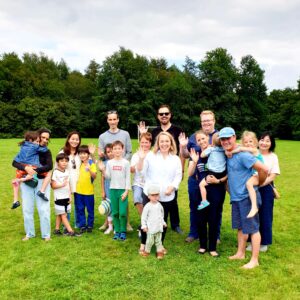 Helsingborg International Connections
"A Warm Welcome For International Talent!"
Helsingborg International Connections(HIC) supports international citizens in the Helsingborg area by providing regular events in English, helpful information and a weekly drop-in session where we answer questions about living in Helsingborg.
HIC offers a ready-made network for international talent and their families to plug into, helping them integrate more quickly and easily into their new environment. Our events are a mixture of social, informative and professional, and provide a warm atmosphere in which to meet other internationals. We facilitate introductions which create new friendships, new jobs and new opportunities for talent, international masters' students and partners/spouses.
At Tuesday morning drop-in sessions, there's always a friendly face and practical guidance for both every-day and unusual queries. From local shopping enquiries to developing a new business idea or dealing with divorce and bereavement, we've been able to extend a helping hand and point people in the right direction to solve their queries.
We also arrange a tailor-made service for those employees who would benefit from a personalised individual or family support programme. We can facilitate in-house group welcome sessions or orientation events, depending on your business needs. Welcome to discuss further with us!
HIC was launched in 2014 and is an independent organisation working closely with Helsingborgs stad Näringsliv & Destinationsutveckling. HIC receives support from Helsingborgs stad in the form of office space, office resources, catering and funding for events. In 2017 HIC participated in the SoPactaccelerator programme for social entrepreneurs and in 2018 was invited to be included on the 100 Social Innovations of Skånewebsite. During 2018, HIC was invited to participate in an EU projectstudy visit to Holland Expat Center South, Eindhoven, and a follow-up conference in Tallin regarding the integration of international talent across 7 EU member states.
Tack så mycket!
Sally Russell, Co-founder Helsingborg International Connections ekonomisk förening
https://www.facebook.com/helsingborginternationalconnections/